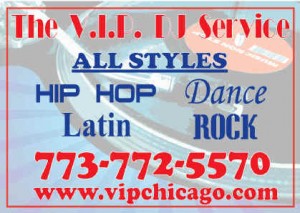 From the V.I.P. Chicago DJ Service 
We have a variety of systems to choose from,
just let us  know what you prefer and how you would like to make your
deposit. If you have trouble deciding which package is right for your occasion
just give us call so we can help you choose the best system.
================================
For your convenience a secure paypal
invoice can be sent directly to your email address where you can pay using your credit card:
======================================
Make it an All-out Dance Party
CONTACT V.I.P. FOR YOUR NEXT EVENT TODAY:
V.I.P. CHICAGO
773-772-5570
=============================================================
Our Most Popular Packages:
Package 1:
We switched our pricing, which makes it so much more simpler for our clients. Basically we charge $100 an hour for a complete system, $75 for an additional generator (which includes fuel ) Our Minimum set up fee for each event is $400 (We don't have to stay for 4 hours if you don't need us.
Package 2:
$800 Custom DJ package includes Party lighting with tripod pin
spots and Laser lighting, 2 microphones, M.C. service, Complete DJ system with speakers.
This package gives us the option of providing 1 or 2 sets of speakers
depending on what would be most appropriate for the hall or banquet room at no
additional cost. If you need big speakers, small speakers, even extra speakers, It's all included with that price
  (covers up to 10 hours of service preferred for festivals and Weddings)
Please feel free in calling with further details including…Date, Times/hours, Number of guest expected, location, Parking, etc.
Remember: We are NOT AVAILABLE FRIDAY EVENING,
all other times are a go 🙂
Thank you kindly for your interest
*************************************************
We can play a variety of music including Rock, Dance, Pop, Classics, Hip Hop and Latin
https://www.mixcloud.com/djlittleangelvargas/
V.I.P. CHICAGO
(773) 772-5570
(c)Copyright 1998 V.I.P. Chicago Online
All Rights Reserved