Dj service, bilingual d.j. Chicago wedding dj, Record Pool, record promotions, graduation, school dance, dj company, anniversary party, Spanish dj

V.I.P. Chicago features some of the most talented disc jockeys in the country, and we are very selective in making sure you have the most perfect D.J. for your special event.
We thank you for your interest in our services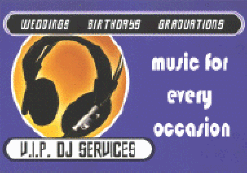 V.I.P. Chicago DJ Service
(773) 772-5570
It is not exaggerating when we say our "jocks" can play almost anything you can imagine. From carnivals, to the smallest and most intimate of special events, we can provide you with a true professional with at least ten years experience.
Staging platforms are also available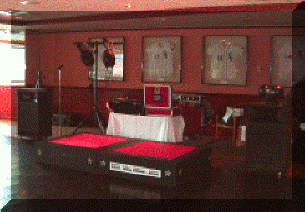 Additional lighting & staging is also available

Our sound equipment is of the highest caliber, and with our various "set-ups" to choose from we are sure to meet your specific needs.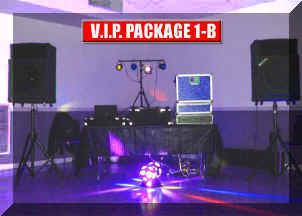 Our DJ package can be ordered with or without lighting
Contains our 10" speaker cabinets with built in horns for wonderful sound clarity. Top of the line C.D. players, professional 8 track mixing board, 200 watt power amplifier, one mic and computer for high quality digital sound. Common for smaller events, catering 1 to 50 guest.
Premium Wedding System
with lighting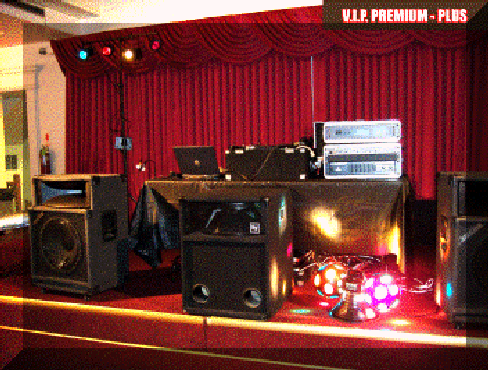 Features a "1000 watt" power subwoofer for incredible bass along with 2 midrange speaker cabinets that each contain 18" woofers with horns.
With this system you are assured a night to remember. Also includes a lighting package, with colored spot lights, fog machine, rotating moon system, and mace rolling star-light along with staging platforms (if requested), and computer for the highest quality digital sound..
V.I.P. Chicago's Video and Sound Presentation
Including custom made video
THIS ONE HAS IT ALL...REALLY!

MAKING YOUR EVENT A NIGHT TO REMEMBER FOREVER !!!

Features a beautiful 9 x 10 (front projection) screen. Rear projection is also available.

Imagine video clips or photos from you family. Your photos are literally re-mastered and enhanced. Along with a complete sound system ,

This package will make your event a night you will never forget.
We sincerely encourage you to call our office so we can learn more about how to make your event an absolute joy for everyone attending.

V.I.P. CHICAGO 3505 W. FULLERTON CHICAGO IL.60647
(773)772-5570
� Copyright 1998 V.I.P. Chicago Online
All Rights Reserved